Steam!
All We Need is
temperature and Pressure!
(which are sometimes hard to get.....and keep!)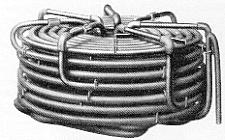 Those of us involved in either restoration or operation of a White Steamer know how hard it can be to keep our sanity. It shouldn't be that way, or White would not have sold as many cars as they did! Here, we hope to maintain a list of those people manufacturing parts or know of that special store to buy hard to find items. As always, if you would like to add something to this page, please contact Ryan Thurber
mailto:WhiteAutomobile@whitesteamer.us
No White technical discussion is complete without reference to the White Owners' Fourteen Commandments by Jim Crank.