Home Page
of the
















Welcome to the White Steamer Web Site with an updated White Steamer Roster!
We would like to thank Bruce and Tim for all of the work to get the White Registery and Website back up and functional! Thank you for all of the help!
Please see the new White Steamer Roster. (Click button in upper left corner)
All White Steamer owners should read the White Steamer Owners' Fourteen Commandments.
The White Steamer was manufactured in Cleveland, Ohio from 1900 until 1910. This web site is dedicated to the history and operation of the White Steam Automobile.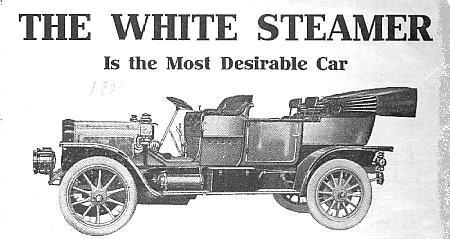 This site is under slow construction. Check back for new information,
pictures, and links. Any suggestions, comments, and useful material are
always welcome and should be sent to Ryan Thurber
mailto:WhiteAutomobile@whitesteamer.us